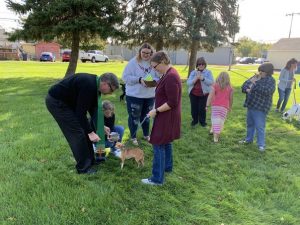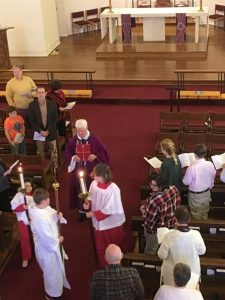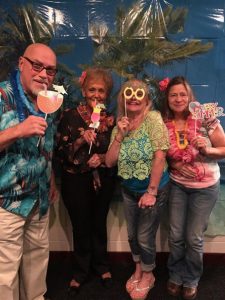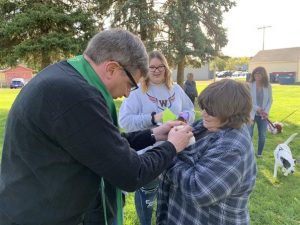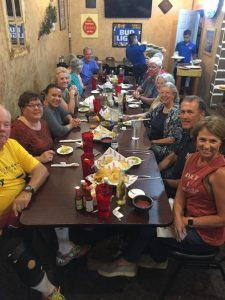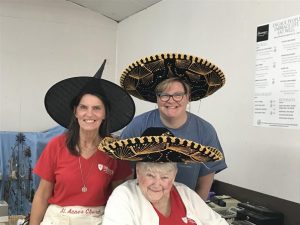 Rector: The Rev. Ryan Fischer
Phone:               574-267-6266
Fax:                     574-268-0714
Office Hours:   Tuesday – Friday 9 am – 4 pm
Email:               office@stanneswarsaw.org
Facebook:        St. Anne's Episcopal Church in Warsaw, IN
Instagram:       st.annesepiscopalwarsaw
St. Anne's Annual Sale
Our Annual Sale is Wednesday, June 7 – Saturday, June 10 at the Home and Family Arts Building located at the Kosciusko County Fairgrounds.   We will open at 8 a.m. each day and close at 6 p.m. Wednesday-Friday and Saturday we will be open 8 – noon.  You will find: clothing, furniture, jewelry & collectables, dishes, pots and pans, lawn and garden items, bedding, games and toys, holiday decorations, electronics, shoes, purses, books, housewares, tools & automobile items and much more.  Past years have had cars, boats and a hovercraft. We don't know what all we will have until that week arrives.  
All proceeds from St. Anne's Annual Sale are used for outreach in our community. In the past we have donated to Beaman Home, Fellowship Missions, B.A.B.E, (Beds and Britches Ets.), C.A.S.A (Court Appointed Special Advocates), Salvation Army Food Pantry of Warsaw, Kosciusko Community Soup Kitchen, FUMC Community Closet, Habitat for Humanity, WCHS Food and Toiletry Pantry, Animal Welfare League, we provide 200 Thanksgiving Baskets for those less fortunate, Hats, Mittens, Coats and Boots for Title I School children, Baker Youth Club, Bowen Center, WCHS Scholarships for those heading to college following graduation, Feed My Starving Children…
We would love to have you come out, find treasures to purchase and support these local charities along with us.
Welcome to the website of St. Anne's Episcopal Church!
Grace and peace to you in the Name of the Crucified and Risen One, Jesus Christ!
In our tradition, Easter is not just one day, it is fifty. And Easter is, to use some fancy
theological language, a celebration of the Paschal Mystery. The Paschal Mystery is, in
part, the passage of Jesus from crucifixion to resurrection – from death to life – which is
the centerpiece of everything we observe from Holy Week (beginning April 2 this year),
through Easter (April 9), and on to the Day of Pentecost (May 28). With the Paschal
Mystery comes an acclamation known, not surprisingly, as the Paschal Greeting. This
greeting in the original Latin is "Christus surréxit! Surréxit vere. Allelúja!", which is
usually translated as, "Christ is risen! He is risen indeed. Alleluia!" The greeting of the
angel to Mary Magdalene and Mary, the mother of James was similar as they heard the
words, "[Jesus] is not here; for he has been raised…" (Matthew 28:6a). The Paschal
Greeting or slight variations thereof occur in our services in both acknowledgment and
celebration of the resurrection, and we are even encouraged to greet one another with
these words throughout Eastertide.
The church, in fact, has celebrated Easter longer than it has celebrated Christmas; it
can be argued, too, that Easter is the church's highest festival – greater than Christmas!
But, given some thought, it is not a stretch to see that resurrection is more mysterious
and awe-inspiring than birth. And resurrection is the ultimate hope for the end of our
lives, that, as we die, we inherit eternal life and join the "great cloud of witnesses" who
celebrate with the Risen Christ the feast that has no end.
Forty days after Easter (May 18 this year), the church celebrates Christ's ascension into
heaven, but should this be seen as a departure and a separation, we are continually
reminded of Jesus' promise: "And remember, I am with you always, to the end of the
age" (Matthew 28:20b). Indeed, the Fifty Days of Easter conclude with Pentecost, which
celebrates the descent of the Spirit that Jesus himself promised; what could be
perceived as absence is consumed by presence – the presence of the Holy Spirit to
gather, guide, and comfort us until Jesus returns in glory.
We have much to celebrate, for sure. We pass from death to resurrection, from
resurrection to ascension, and from an apparent absence to an abiding presence. Our
Lord is with us forever, and so we respond with joyous shouts of "Christ is risen!" and
serve him with gladness this day and always. If this is something you want to be a part
of, please browse this website and find ways you might celebrate with us, too!
The Lord is risen indeed. Alleluia!
The Rev. Ryan D. Fischer, Rector
St. Anne's Episcopal Church
Join us for worship…
8 a.m. Rite One – A Traditional Service
10:15 a.m. Rite Two – A Contemporary Service
Live Streaming-Facebook: St.Anne's Episcopal Church in Warsaw IN YouTube Channel: St. Anne's Episcopal Church, Warsaw, IN.
On-demand YouTube viewing: *available 24 hours after the recording of the service on St.  Anne's Episcopal Church, Warsaw, IN
Bulletins, Readings, Prayers of the People and This Week at St. Anne's:
Serving Schedule
The Visitor: Quarterly Newsletter:
May Dates to Remember:
THE FEAST OF PENTECOST WITH BISHOP DOUG SPARKS Celebrating Holy Eucharist with us. We will have only one service on May 28 at 10 a.m. He will be Confirming three of our parishioners. Those being confirmed and their sponsors should arrive at 9:20 for a rehearsal with Bishop Doug at 9:30 a.m.
EPISCOPICKLES We just canned a new batch. Get yours today before they are sold out.  Still just $5 a jar!
What's near St. Anne's Episcopal Church?