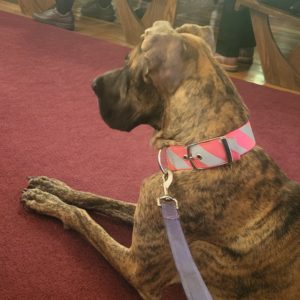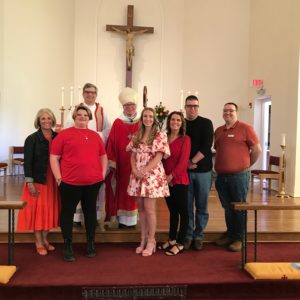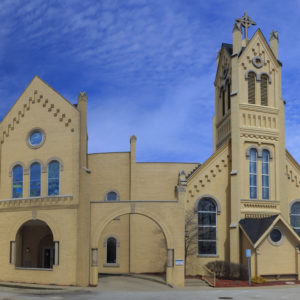 Rector: The Rev. Ryan Fischer
Phone:               574-267-6266
Fax:                     574-268-0714
Office Hours:   Tuesday – Friday 9 am – 4 pm
Email:               office@stanneswarsaw.org
Facebook:        St. Anne's Episcopal Church in Warsaw, IN
Instagram:       st.annesepiscopalwarsaw
Online Donations can be made through Paypal
Welcome to our Website!
This is where you can get "virtually" acquainted with St. Anne's – the people, the activities, and the ministries. Of course, we are best understood on site and in person, and we invite you to attend services on Sundays at 8 and 10:15 a.m. or on Wednesdays at 5:30 p.m., and there are opportunities for fellowship and study, as well, which can be found on this website's calendar. You may or may not be familiar with the Episcopal Church, but I am confident that, wherever you are on your journey of faith, someone here will walk with you as our liturgies are celebrated and God's Word is preached.
Please take a few minutes to get acquainted with us and, should you come and see us in person, know that you will be welcomed!
In Christ's love,
The Rev. Ryan D. Fischer, Rector
St. Anne's Episcopal Church
Join us for worship…
8 a.m. Rite One – A Traditional Service
10:15 a.m. Rite Two – A Contemporary Service
Live Streaming-Facebook: St.Anne's Episcopal Church in Warsaw IN YouTube Channel: St. Anne's Episcopal Church, Warsaw, IN.
On-demand YouTube viewing: *available 24 hours after the recording of the service on St.  Anne's Episcopal Church, Warsaw, IN
Bulletins, Readings, Prayers of the People and This Week at St. Anne's:
Serving Schedule
The Visitor: Quarterly Newsletter:
Advent & Christmas Service Schedule
December 3, 2023
Advent I
One Service at 10 a.m. followed by a Parish Family Dinner
Hosted by SAMS & ECW
December 21, 2023
7 p.m. in the Chapel of St. Mary
Blue Christmas Service
(For those who have lost a loved one or have gone through a life change and is struggling through the holiday season.)
December 24, 2023
Advent IV
10 a.m. Advent Lessons and Carols & Holy Eucharist
December 24, 2023
7 p.m. Christmas Eve Mass
December 25, 2023
Christmas Day 10 a.m. Mass
December 31, 2023
Christmas II
One Service at 10 a.m.
Upcoming Dates to Remember:
November 19 – Pledge Card Ingathering – Thank you to those who have already turned in your pledge cards.
November 22 – Midweek Celebration of Holy Eucharist 5:30 p.m.
November 23 & 24 – Parish Office will be closed in observance of Thanksgiving
December 3 – One Service at 10 a.m. followed by our Parish Annual Family Advent Dinner
December 13 C&PR Meeting (Communications & Public Relations) 6 p.m. in the parlor.
December 14 Vestry Meeting Thursday, 12/14 at 6 p.m. in the parlor.
December 17 Join us for decorating the church on Sunday, 12/17 following the 10:15 service we need volunteers to help decorate the church for Christmas.  If you can help, email office@stanneswarsaw.org.
December 20 Choir Rehearsal Wednesday, 12/20 at 6 p.m. in the choir room.
December 29 Year End Deposit Please have all donations for 2023 to the parish office by Friday 12/29 at 9 a.m.
What's near St. Anne's Episcopal Church?