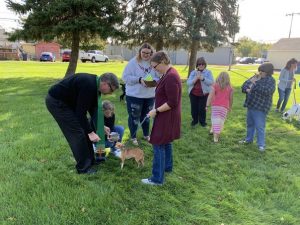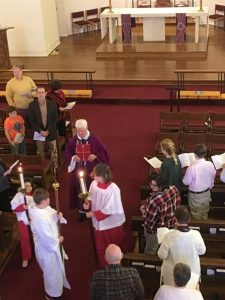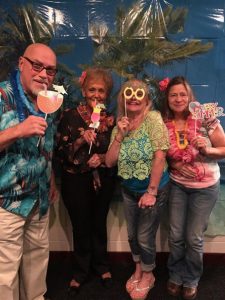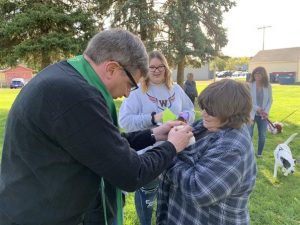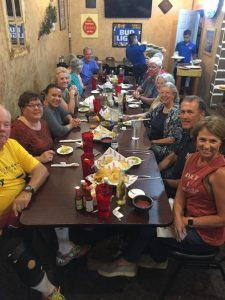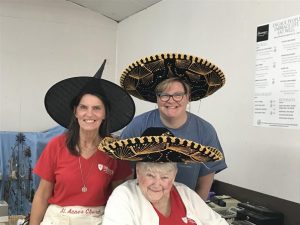 Rector: The Rev. Ryan Fischer
Phone:               574-267-6266
Fax:                     574-268-0714
Office Hours:   Tuesday – Friday 9 am – 4 pm
Email:               office@stanneswarsaw.org
Facebook:        St. Anne's Episcopal Church in Warsaw, IN
Instagram:       st.annesepiscopalwarsaw
Welcome to the website of St. Anne's Episcopal Church!
As the days become longer and as the calendar advances toward Spring, the Church enters a particularly holy time. Early Christians – the first to celebrate the Resurrection of Jesus (Easter) – developed a pattern of preparation for the Easter feast that emphasized prayer, study, and fasting. This became known as Lent, with the word "Lent" going back to an old English word for springtime. When Christianity was relatively new, it naturally had more converts than lifelong members, so newcomers entered their final phase of preparation for their Baptism into the Christian faith during Lent. Not surprisingly, instruction in the faith was a substantial part of this preparation. These newcomers were called "catechumens" and the instruction was called "catechesis."
Lent is a period of forty days, which begins this year on February 22, with our observance of Ash Wednesday; it then follows through five Sundays and leads into Holy Week. Holy Week begins with Palm/Passion Sunday (April 2), which commemorates Jesus' triumphal entry into Jerusalem (see Matthew 21, Mark 11, Luke 19, John 12) as well as his arrest, trial, sentencing, and death (see Matthew 26-27, Mark 14-15, Luke 22-23, John 18-19). Holy Week continues into The Great Three Days, which are Maundy Thursday (April 6), Good Friday (April 7), and Easter (April 9); this is the Church's passage through the Death and Resurrection of Jesus in a way that both tells the story and celebrates the mystery. We tell the story through the Scriptures and proclamation, which reveals God's love through the suffering and death of Jesus Christ; we also celebrate the mystery of how we are saved from sin and death through our Lord's passage from death to resurrection.
Even though times have changed from the earliest days of Christianity, Lent is still thought of as a time for prayer, study, and fasting. It is an opportunity to do a sort of Spring's work on oneself – to turn over the soil in one's soul and prepare it for the seed of Christ, who will burst forth in new life through his Resurrection. The Church's gift to us is the observance of the Forty Days that orient our hearts and minds to Christ's sacrifice, which then allows us to more fully and robustly celebrate Christ's Resurrection. We give a little extra of ourselves during Lent as a reminder of what Christ gave for us.
At St. Anne's, we offer several opportunities for the disciplines of Lent, particularly prayer and study. Our weekly service schedule continues as usual – Sundays at 8 and 10:15 a.m. and Wednesdays at 5:30 p.m. (excluding Ash Wednesday), and Fridays in Lent will include Stations of the Cross at 6 p.m., which is a meditative walk through the final hours of Christ's life (particularly fitting for the Forty Days). Study opportunities include a discussion of "Five Loaves, Two Fish, Twelve Volunteers" by Elizabeth Mae Magill, which will follow our Wednesday evening service at around 6 p.m. You will see that St. Anne's, despite its relatively small size, nurtures a meaningful relationship with the Lord Jesus Christ throughout the Church Year with worship, study, and prayer – all grounded in God's means of grace…his Holy Word that we proclaim and the Holy Sacraments that we celebrate.
If you want to find out more, simply browse this website, and if something piques your interest, come visit us on a Sunday. There will be a place for you here!
Grace and peace to you,
The Rev. Ryan D. Fischer, Rector
St. Anne's Episcopal Church
Join us for worship…
8 a.m. Rite One – A Traditional Service
10:15 a.m. Rite Two – A Contemporary Service
Live Streaming-Facebook: St.Anne's Episcopal Church in Warsaw IN YouTube Channel: St. Anne's Episcopal Church, Warsaw, IN.
On-demand YouTube viewing: *available 24 hours after the recording of the service on St. Anne's Episcopal Church, Warsaw, IN
Bulletins, Readings, Prayers of the People and This Week at St. Anne's:
The Visitor: Quarterly Newsletter:
March Dates to Remember:
Episcopickles will be ready to sell March 19 after canning.
What's near St. Anne's Episcopal Church?